So another month is ending! May has been a very memorable month...lots of great giveaways, a blogversary, many great things happened. If you missed anything, here is your chance to catch up!
1 - Allison, from House of Hepworth showed us how to make decor balls.
2 -
Leslie gave us
Ten Causes and Cures for Clutter
3 - An update on our roof and curb appeal
4 - Organized Reader, Jennifer, with her Once a Month Meals
5 - Updates, Vacations, and More
6 - A little progress on my office &
OMF Headquarters: the Overview
7 - On being a Momma
8 - OMF to the Rescue: Kitchen cabinet dilemma
9 - Mineral Make-Up Mess
10 -
Blogversary Week: A Giveaway a Day
11 - OMF to the Rescue: Laundry/Pantry Room Duo
Here is a list of all our sponsors of all the giveaways this month:
1. Tracy, from Clever Container with her $50 Gift Card
Tracy's website and consultant ID is 453
A. Crumb's Away Utensil Tray Organizer
you can contact her through her website
C. Hannah from Willow House
D. 31 Products from
Valerie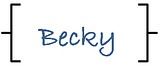 Like what you see here? Consider becoming a follower or subscribe via email!