Tomorrow starts a week of giveaways here on OMF! Two years ago this week I began this blog. I had no idea that what turned out to be a fun hobby, could turn into an exciting way to meet so many, share my love of organization, and NOW being able to work from home doing what I love! So, to celebrate, I have lined up some serious organized giveaways all this week!! I am SO excited!
You don't want to miss all the organization that you can win...
I have had some AMAZING sponsors who want help you all get organized....as we celebrate all this week OMF's 2 years of blogging! Starting tomorrow, be sure to stop by and see what the first giveaway will be. Lots of fun organizing to be had!!!
Doesn't this get you excited? I sure hope so...we're going to get you some organizing inspiration and a chance to win a giveaway!! Be sure to check back DAILY because you don't want to miss an opportunity like this!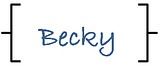 Like what you see here? Consider becoming a follower or subscribe via email!
Having trouble seeing the pictures? Try THIS.
Are you an Organized Reader? I'd love to see your organized space. Email me
HERE
and show me your space to possibly be featured as one of my Organized Readers.