For the month of August, we'll talk about getting ready for school. But, even if you don't go back to school or have a child in school...there is plenty to plan and get yourself ready for! For instance, it's time to look over your schedule for the fall - whether it involves school or your own personal schedule.
Sit down with your schedule. If you have a baby, it's always a good chance to figure out whether or not you want to do any classes with him/her, or you have too many classes, or they have a napping schedule, etc. But, I'd suggest you go back and look at THIS blog from a few months ago about what to do with your kids schedules.
One of the things I have done to stay organized is to assign each day of the week (weekdays) to have a particular thing I do. For instance, Mondays are the day I run errands. Tuesdays are my cleaning day. Wednesdays (starting in the fall), I have my Bible Study in the morning and I teach piano lesson in the afternoon....etc. When my kids were babies, I could not spend a whole day cleaning! I did a little bit each day - I only spent 15 minutes a day with one cleaning chore each day (Mondays, vacuuming; Tuesdays, dusting; etc.). I showed you my summer schedule back in June.
It's a great idea to sit down and work on this before school start. Figure out what you want your kids to do before you leave for school - any chores,making beds, eating breakfast (of course) and getting stuff ready. I always have practice runs at least three or four days before we start school - making them get up, make their beds, get dressed, eat, and do all their assigned morning tasks. It gives me and the kids an idea of whether or not we're back in the routine to get going quickly enough each morning!
What are you starting to do to get ready for school?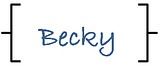 Like what you see here? Consider becoming a follower or subscribe via email!
Join me on
Facebook
- where we interact and have lots of great fun. You can also see behind the scenes pictures and fun stuff I do on my
Instagram
!
There are some products that are linked to my Amazon affiliate link.