One super important thing we needed to do for one another is to take care of each other! I love how great our church is at bringing meals and helping others when needed. One great website I have recently discovered is Take Them a Meal where it makes organizing a meal for someone VERY easy. In the past, I would organize meals for a friend by sending out emails and dates and going back and forth between everyone trying to pick dates. Then, I'd send out another email to remind them, etc. Well, the website Take them a Meal is so easy because it takes them directly to where you set up the days and then your friends can sign up directly for a specific day, they can even put what they will bring, then the website sends them an automatic email reminder to bring their meal. You can even put what not to bring or any other details about the meal in there! A super great website that I highly recommend!
I recommend that you have a "go to" meal that you use whenever you bring a meal to a friend. My own personal quota is that I only do one meal a month (for anyone), otherwise it gets to be costly or difficult for me to do more than that for friends. Really that is reasonable. I have done more, but find it's a little tough.
Here's a little bit of what I personally do to organize it. First of all, my go-to meal is a crock pot BBQ pork sandwich meal. It's quick and easy and I just put it in first thing in the morning.
I save all kinds of disposable containers. There is nothing worse than being sick or unable to cook and having a meal delivered, then trying to find the person and give back all their dishes - especially if you get a couple weeks worth of meals and dishes! So, ALWAYS give them their dinner in something they don't have to wash and can just throw out when they are done! I save butter tubs, lettuce containers, take home containers, cool whip containers, etc. You'd be amazed what you can reuse. I wash them and have a special place I keep all that stuff.
I try to give the family a main meal, a vegetable or fruit, a starch, and a small dessert. It's what I'd feed my own family - and often I split it and we eat the other half for our own dinner!
I use my trusty label maker (yes, I use it often) and label everything so they know what they are eating. This meal was BBQ pork sandwiches, so I had the BBQ pork meat in the cylinder, fries (kids love this), a spinach salad (super easy with cranberries, feta cheese, sliced almonds, and apple slices), and some brownies. I put them in a disposable bag (if you have a TON of gift bags it's great to use one of those even). Then, when you deliver it, you'll just hand over the bag and it's done! I try not to go in or linger because often if they are sick or just had surgery or a baby, it's just not appropriate. Plus, I'm often just delivering it and have to get home to get my own family fed! Bring your kids, though....show them what it means to love your brothers and sisters in the Lord!
I must confess that on this particular day when I was doing this meal, my friend Julie (who just came home the day before with her preemie baby) stopped by my house on her way home from her parents' house. Just as she pulled up, I was packing up the bag to hand her when....I dropped the whole salad on the floor! I was SO embarrassed! (The Lord certainly keeps me humble). The good part was it was the salad - I made a new one in three minutes, literally! That's how easy that salad is! And this little guy above was happy to get the meal! Hopefully he enjoyed the fries and brownies too!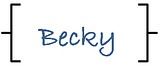 Like what you see here? Consider becoming a follower or subscribe via email!
Join me on
Facebook
- where we interact and have lots of great fun. You can also see behind the scenes pictures and fun stuff I do on my
Instagram
!
There are some products that are linked to my Amazon affiliate link.