At OMF we've had a month full of posts that have focused on training our kids as well as a few updates on my kitchen renovation. If you've missed anything you can find the links at the end of this post.
I have a busy home filled with four girls aged 20, 17, 12 and an almost 3 years old. The 20 years of experience as a mom hasn't changed my desire to keep my little ones close to home for their early years, but it has given me confidence to teach them myself. Today I'd like to briefly share one tool I've created this year to organize our preschooler's learning.
This is our School Board. I got this idea and several others off of Pinterest. It's a great resource for activities and developmental learning ideas for your kids of all ages. This board is simply a tri-fold presentation board that I got at the local office supply store and covered with clear contact paper. I can easily change up activities without making up the presentation board, and when we are done with "school" for the day I can fold it all up and put it away neatly.
We typically have a formal "school time" about twice a week.
Here is what we are learning:
1. Bible Memory and Praise Song
2. The Days of the Week Song
3. Observe the Weather
4. Shapes Hunt
5. Letter Practice
6. Calendar (counting practice)
This is just the beginning, but we will add seasonal things as she progresses. I take time every couple of months to prayerfully consider what areas my kids need to grow and be taught physically, intellectually, spiritually and emotionally and look for activities around those areas that I want to see growth in. I also take into consideration the natural built in things like the season of the year we are in, and holidays that are coming up so that I can make the most of those traditions in the life of my little ones.
Don't forget that much of a preschooler's day is spent in play and practicing the activities of daily living. Learning things like getting dressed, folding clothes, making her bed, and helping mommy put the clean silverware away and helping her sister feed the dog are a huge part of our daily life. Participating in church activities and community events and even playing at the park with friends are also great opportunities for teaching and training your little one as you go about living life too.
This month Becky has had some important post's about getting your kids to help around the house that you will want to review if you have older ones at home. If you missed anything you can find the posts below.
I love having guests in our home and making them feel welcome and cared for.
Professional Organizer Alejandra Costello at Alejandra.tv has been busy organizing her new house and has this wonderful video of her super organized guest room to inspire you to make your guests a priority with just a little organization.
Have you tried the healthy cleaning products from ePantry? They are offering OMF readers a $10 credit on your first order!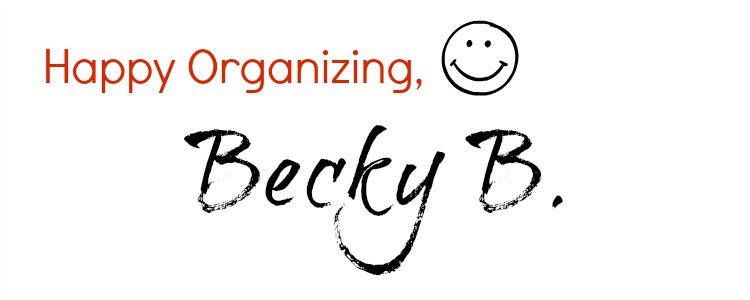 Want to know where I got that product?
**I have a few affiliate links in this post - this does not mean you pay a dime more for the product when you purchase through my link. It just means I made it easier for you to find what you might like, so I make a few cents if you purchase. I SO SO SO appreciate when you support Organizing Made Fun. Thank you!!** Like what you see here? Consider becoming a follower or subscribe via email!