I'm over here sweating in our 90+ degree weather this week here in Southern California and some of you on the east coast are floating away - we are longing for some rain, but wow! Well, I really don't ever have to change out my clothes for "seasons" since we are lucky to get a couple of weeks of chilly "winter-like" weather here. But, Jill, my professional organizer guest, definitely knows how to deal with changing out season clothing and keep it organized!
In some areas of the United States, the
changing seasons allows for the opportunity to switch out seasonal clothing and pare down our closets. This is a good bi-annual routine to perform, otherwise it's easy to overstuff our closets and forget what we have.
Once the weathers starts to shift:
Begin weeding out your hall or entryway closet while swapping out your seasonal outerwear. Pull out the jackets, coats and other seasonal items and decide whether each piece should stay around for another season or go. Wash or dry clean, if needed, and then store the out-of-season items you are keeping in large, labeled bins or hang them up in another location, like your basement. They will be super easy to locate when the weather changes.

Use labeled containers to store any outwear you plan to donate or sell. Clothing to be handed down to other children should be placed in bins labeled by size and gender. This will prevent confusion later on.

Next, spend a couple hours on each family member's closets and dressers. Look for items that were not worn this past season or no longer fit. Move those to the "sell" or "donate" containers.

If possible, relocate off-season clothing to your basement or a spare bedroom. Bins of clothing may also be stored on closet shelves, storage chests, extra dressers, or beneath beds.
Take some time to edit the current season's clothing, taken from storage, before placing it in your closet or drawers. Routine, seasonal editing is the key to maintaining organized closets.
Do you have cold winters and need to trade out clothing in your closets? Where are you from?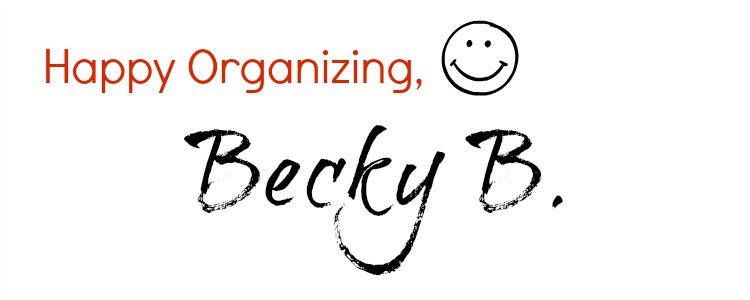 Want to know where I got that product?
**I have a few affiliate links in this post - this does not mean you pay a dime more for the product when you purchase through my link. It just means I made it easier for you to find what you might like, so I make a few cents if you purchase. I SO SO SO appreciate when you support Organizing Made Fun. Thank you!!** Like what you see here? Consider becoming a follower or subscribe via email!