One of our Facebook followers recently asked us to comment on how to organize nail polish. This got me thinking about the messy nail-drawer in my bathroom that I have been meaning to organize.
The first time I remember having my nails painted was when I was two years old. My Dad painted them bright red and even painted my baby doll's nails too! Thus began a life-long love for DIY manicures and pedicures.
It has been a long time since I cleaned out the bathroom drawers and it has been one of those annoying things I didn't have time to get to. (Or so I thought)
I bet you all don't have a messy drawer like this at home, but if you do, be encouraged. It only took me about 2 hours total to transform this mess! (That includes a trip to the dollar store.)
Here is a step by step guide to organizing your own Mani-Pedi supplies.
Open

every

nail polish bottle and check. Is it clumpy? Do you need to toss it?
Once the clumpy polish is cleared out then consider what you have left. Do you have polish that you have had a while but never used? Give it away. Kids always like to get a new bottle of polish and there are not many grown women who can pull off neon green nails! ;)
Check each tool. Get rid of the dull and broken tools and give away the ones you just don't use.
Do you have empty tubes of lotion or foot scrub in there? Throw them out!
What about products you bought or were given but just don't use? Give them away so that you have room for the things you will use.
It is extremely important that you keep your Manicure and Pedicure tools clean. You wouldn't cut your food with a dirty knife so why would you cut on your body with dirty tools?
Now that you have it all cleaned out and disinfected its time to choose how you will store it.
I have a fairly large wire organizing drawer set in my bathroom and I've devoted an entire drawer to Mani-pedi stuff. The trouble with this drawer is that it was really getting junked up by all my little ladies getting in and out of it. I needed a way to categorize and contain and label it all, and I didn't want to spend a lot of time or money.
Once everything was all sorted I counted up how many bottles of polish I had, and made a trip to my local dollar store. I find it is helpful to take the items or a couple of the items you will want to contain with you to the store when you are making a purchase. This way you can see if you like how the container holds the supplies and be certain it will fit.
I spent $8 and here is what I came up with.
Pencil boxes: The best for keeping cutting tools and nail files contained and portable when you want to do your nails while watching a great movie!
Drawer Dividers: for my nail polish remover, cuticle cream, essential oils, etc.
Chalkboard labels:
These are great for labeling. The dollar store had a package of 4 that I cut down to label all the boxes and containers in my drawer. They can be wiped and relabeled as the contents change.
4. Maintain It:
Apply the 1 in 1 out rule for your nail products. How many shades of pink nail polish does a girl need any way?
When you put things back be sure to put them in the properly labeled container. Finding it later is much better than shoving it now!
What are your tips for keeping nail supplies in order? Have you made any dollar store hacks when organizing your home?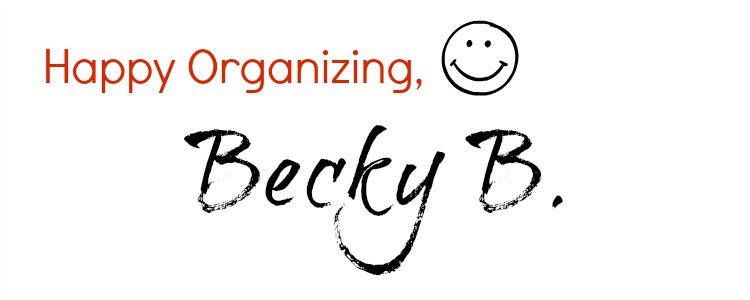 **I have a few affiliate links in this post - this does not mean you pay a dime more for the product when you purchase through my link. It just means I made it easier for you to find what you might like, so I make a few cents if you purchase. I SO SO SO appreciate when you support Organizing Made Fun. Thank you!!** Like what you see here? Consider becoming a follower or subscribe via email!