I love sharing things with you that make life easier or more fun or are just plain cool! All kinds of things...and this month I found some more great things to show you that you might not have realized are there or have tried! Can you guess what they are?
1. Stainless steel straws
Stainless steel straw has lived up to the hype! #mylifewillneverbethesame #norwillmydrinks #starbucks
So, what's the big deal? Well, if you like to drink cold drinks, like I do, than it's just better. I have a Starbucks stainless steel cup and it's got the stainless steel straw and I have another one with a plastic straw and it just TASTES better and is more refreshing with the stainless steel straw! You looking to get one? Go HERE. I throw mine in the dishwasher with the utensils and it's totally clean when I'm done!
2. Essential Oils Travel bag
I'm an essential oils enthusiast and love my travel bag. I have been traveling all over the place lately - Chicago, Seattle, to name a few - and I take this wherever I go. Road trips or the airplane, I take it with me. It organizes all my oils and keeps them from getting on stuff. If you want to know what oils I travel with, go HERE. This bag can be found HERE.
3. Crockpot
We have a potluck at my son's school and I found another use for chalk ink markers. #genius BBQ Chicken Sandwiches (super easy) - 2 lbs chicken breast cooked in crock pot for 4-6 hours on low - shred cooked chicken in mixer and drain juice from crockpot - add 1-2 bottles of bbq sauce - serve with hamburger buns #potluck
Okay, so I'm not reinventing the wheel but I LOVE my crockpot. I use it at least once a week. I recently went and got a second smaller crockpot on Zulily for when I make smaller batches of things. I LOVE them. I get all kinds of great recipes on Pinterest - you can find all my favorites HERE on my Pinterest board. If you like my crockpot, you can find it HERE. I even use chalk ink pens on the lid when there is a potluck and I bring my crockpot with me to label what's inside!
4. Target Cartwheel app
Do you have this? If you are a Target shopper, like myself, you NEED this app! So, I'm not a big coupon user - it's just a lot of work I don't have time for - but with this app, I'll be in the store shopping for my usual stuff and I use "scan product" to scan the barcode and sometimes the thing I'm already buying has a coupon for another 5% off on the Cartwheel app - you just have them scan your code on the app at the check out! I love savings like that because I'm not buying something I didn't need, just getting extra savings! Then, I also have a Target debit card and save ANOTHER 5% at the checkout! Yay!!
5. FB Purity
I recently discovered this Chrome extension -- like an app for your browser. It pretty much "cleans up" Facebook. I no longer have any advertisements on my page - yay! - AND if someone "unfriends me" or "deactivates" their account, it pops up and tells me! It has a bunch of other things it does, but I found it while Googling one day when I was fed up with Facebook and all it's stuff. Go HERE to get this extension.
See, I bet there is at least ONE of these things you've never known was out there. Am I right?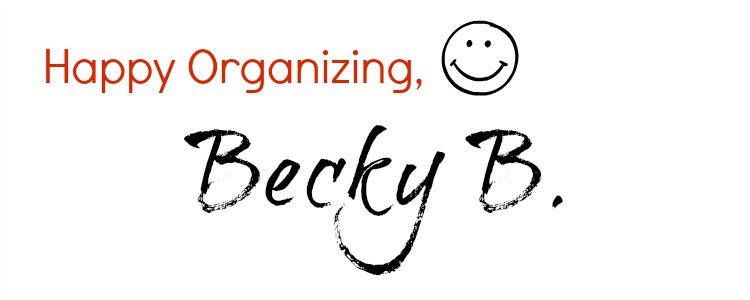 **I have a few affiliate links in this post - this does not mean you pay a dime more for the product when you purchase through my link. It just means I made it easier for you to find what you might like, so I make a few cents if you purchase. I SO SO SO appreciate when you support Organizing Made Fun. Thank you!!** Like what you see here?
Consider becoming a follower or subscribe via email!