The longer I've been a mother, the more I realize what I really want for Mother's Day isn't something fancy or even something expensive. Being a mom is hard work, there's no doubt about it. And, I have to "adult" just about every day, that's just part of it!
When the kids were really little, I thought being a mom was hard. It was hard in a different way, but it WAS hard. I wouldn't go back to having babies and toddlers for anything now...I adore looking back at their baby photos and toddler years. But, as a 45 year old, I don't have that same young mom energy. Oh, but I'd do a LOT of things differently now. I'd be a lot more relaxed about some things, and WAY more uptight about other things.
So, every year when Mother's Day rolls around, I get asked "what do you want?". As a person who doesn't love to have more stuff or clutter, my answer is invariably something clutter free! Cards are sweet and I love seeing how the kids have changed through the years with their homemade cards. But, of course, your family still wants ideas, don't they? So, I have compiled a list of ideas you can pass along to your "significant other" to let him know that Mom could use a few things that could keep her relaxed and organized! Here's my list:
Organization Books

Bedside Organizer

Cell Phone Organizer

Spa/Massage Gift Card

Label Maker

Purse Organizer

Trunk Organizer

Laminator

A Professional Organizer

Inside purse organizer

Organizing and Cleaning Tips

Cosmetic Organizer

Jewelry Organizer

Closet Organizer
Where do you find these? Here's where I find them:
But, most importantly, Momma just wants to be appreciated, loved on, snuggled with, and spend time with her precious babies! What do you want for Mother's Day?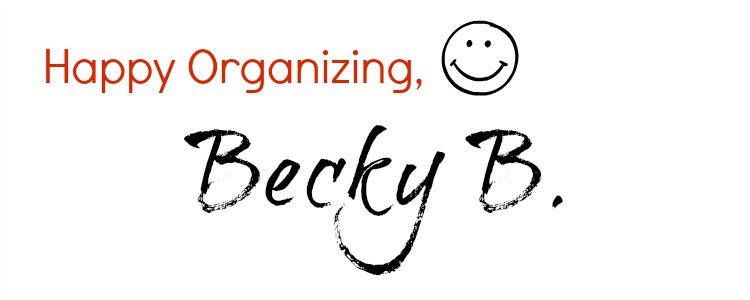 Want to know where I got that product?
**I have a few affiliate links in this post - this does not mean you pay a dime more for the product when you purchase through my link. It just means I made it easier for you to find what you might like, so I make a few cents if you purchase. I SO SO SO appreciate when you support Organizing Made Fun. Thank you!!** Like what you see here? Consider becoming a follower or subscribe via email!