So, you want an organized space! You work and work, declutter and declutter. Now your space is FINALLY looking pretty organized! But, here's the part that's crucial - it's the "keeping your spaced organized" part that's the last step and it's a critical step! I'm going to give you five quick tips that you can keep with you. Feel free to pass this along to any other friends who are trying to get, and stay, organized! Pin it - don't forget about it!
1. Label it.
Once you start getting your area organized, label things. Sometimes it seems crazy, but unless you are the ONLY person who is using it or you have an amazing memory, you should label it. Use pretty labels, simple labels, chalkboard labels, or just write it with color coded Sharpie! Chances are better that it will STAY organized when it's labeled.
2. Put it Back.
I've said this time and time again, but train yourself and your family to PUT things BACK! Yes, that includes toddlers! I trained my kids that they couldn't start anything new until they put things back where they belong. The same goes for YOU - put it back, and do it right away! If you're cooking, start putting ingredients back to their place as you go, if you're getting ready for bed put your clothes back where they go. Don't leave things all over. It may seem like a big task in the moment, but it's not really that hard and it makes a huge difference in how things stay organized.
3. Fix it.
You may have found the

perfect

way to organize something and then all of the sudden it stops working! Your kids grow bigger and older, and things don't fit like they used to - you're busier than you once were, and so forth. Fix the system or the way you organized it if it's no longer working. It's normal - I do it ALL the time. My great organized way of something changes - my eating habits may have changed, the schedule we use now is outdated, etc. It's perfectly normal to have to make a different organizing system!
4. No perfectionism.
Don't go into the perfectionism mode -- I see this ALL the time. It's the "if it can't be perfect, I give up" or "I'm going to kill myself trying to keep it perfect" mode. I'm not saying to give up completely, just realize that you need to do SOMETHING versus nothing.
5. One in, One Out.
Always, always, always...never bring in more without getting something out! You can't keep it organized if you bring in my clutter! Train yourself to get rid of something in the space before buying a new one.
What is one way you can improve in keeping your space organized?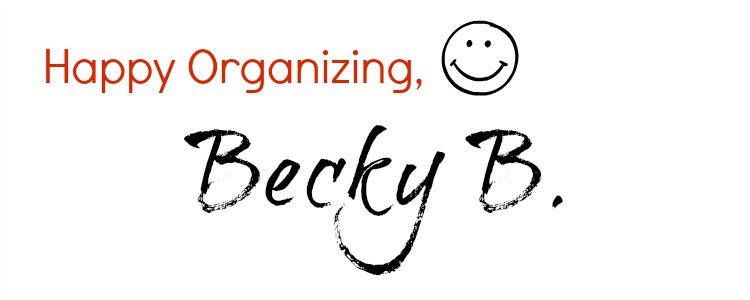 Want to know where I got that product?
**I have a few affiliate links in this post - this does not mean you pay a dime more for the product when you purchase through my link. It just means I made it easier for you to find what you might like, so I make a few cents if you purchase. I SO SO SO appreciate when you support Organizing Made Fun. Thank you!!** Like what you see here? Consider becoming a follower or subscribe via email!