Why is it so difficult to stay organized?

It felt great to have an area of your home organized and clutter-free but have yet to discover the secret to keeping it that way.
Let me assure you, keeping up with organization is a struggle for most.

The secret to maintaining is to adopt the following 3 practices and life styles.
1. Change your mindset.
Maybe your belief has been that organizing your home is a one-time event.
I wish this was true but unfortunately it's not.
Organization is a life-long habit that will require a conscientious effort.
If you let your guard down, clutter will return.
Make it a daily routine to declutter, toss, and recycle. Enlist the help of your family. Recycle junk mail, wash dishes, clear off surfaces and put away clean laundry. Have you ever heard the phrase, "it's easier to keep-up than catch-up?"
A few minutes spent maintaining (keeping-up) will make a big difference in your home and won't be as stressful as tackling a major organizing project.
2. Put things away after using them.
I know, I know, this can be a drag but it's easier to put one item away now than deal with a pile of stuff in the near future.
Clutter attracts clutter.
Change your habits and from this day f
orward vow to no longer "
put this here for now."
3. Regularly and ruthlessly edit your belongings.
Establish a donation zone for items you decide you no longer want in your home.
This zone could be as simple as a box, bag or other container labeled "donate."
Once your donations have a home they won't co-mingle with your other stuff, cause confusion and the require re-sorting.
If you enjoy holding garage sales, label the containers "sell" and place them in a holding area.
Maintaining will become easier as you develop new routines and downsize.

The reward is your freedom. Are you having a hard time staying organized?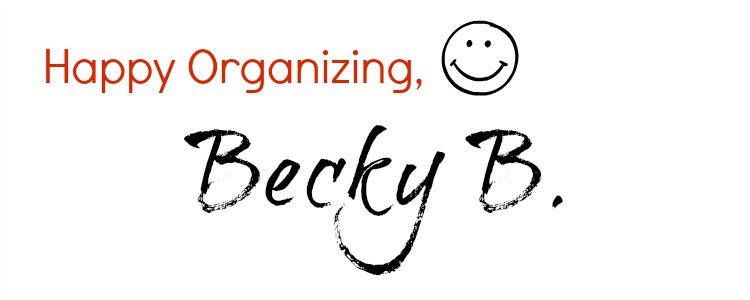 Want to know where I got that product?
**I have a few affiliate links in this post - this does not mean you pay a dime more for the product when you purchase through my link. It just means I made it easier for you to find what you might like, so I make a few cents if you purchase. I SO SO SO appreciate when you support Organizing Made Fun. Thank you!!** Like what you see here? Consider becoming a follower or subscribe via email!