I'd like to introduce my new assistant, Tiffany. She is an amazing mom and wife to four girls ages 17 to 9 months old! Yep...she's got every stage in her home. I've asked her to give some of her great ideas to us about organizing her girls in time for school - which she's got one heading to college this year, too. Please give a warm welcome to Tiffany as she talks about back to school organization in 4 easy steps!
Today I want to share with you four steps for a smooth transition back to school.
Evaluation is the key to thoughtful parenting of your children in every area. Take some time to stop and take stock of the last school year. What worked for you and what didn't? Don't forget to talk with each of your children and get their evaluations as well. Your children will feel loved and appreciate the time you spend planning. Have your children take inventory of their school supplies and clothes from last year and decide what they actually need.
Step 2: Prepare your home
It's time to exchange the beach bags for backpacks! Does your homework area need to be reorganized? What lunch supplies are needed? Does everything have a place and do your children know where that place is?
The main areas to prepare are:
· Their Closet: Have them try on their clothes and get rid of everything that no longer fits so they will have a closet full of things that they can actually wear. Here are some helpful hints that Becky has for organizing your children's closet.
· A launch/ landing pad: A Launch pad is the place where they will "take off" each day. They need to have everything in that spot before bed so that they won't be late to school because they are hunting around for their Math book. They also need a place to "land" when they get home so they can unpack their lunches and get going on homework with ease.
· The Kitchen: Have a meal plan in place for breakfasts and lunches ahead of time so you won't be scrambling and running to the store unnecessarily. You may also want to prepare a special cupboard for packing school lunches like this one.


· A Homework Station: The kids need to know where to find pencils, paper, pens, markers, etc. Whether you use a cupboard, kitchen drawer, desk or an old hutch to keep your supplies organized the important thing is that you kids know where to find what they need to get the job done!
Whether your child is 9 months old or 18 years old, they need a daily routine. Kids need to know what to do and when to do it for their school days to go smoothly. Though I can tend to be free spirited, I have come to realize that I need order so that there is more time for fun!
My children and I need time to go for walks and to play with the baby, time to chat with my 10 year old over a cup of hot cocoa. I need to have time to hear about the cross country drama or that adorable guy in the men's choral.
Creating a daily routine for yourself and your children that has plenty of flex-time built into it will eventually help you to enjoy your family more.
If you have never created a routine for your family there are a few ideas to get you started here:
Step 4: Practice Practice!
One of the most valuable back to school habits for my family is to practice. Get your whole family in back to school mode by practicing your new routine the week before school starts.
Some things to practice include:
· Getting up to your alarm
· Getting dressed first thing
· Your morning and evening routine
The younger kids need to practice more than the older ones but you should also have your tweens get up and ready a couple of mornings rather than hanging out in their pajamas till noon during that last week before school starts. Clearly explaining your expectations and practicing them as a family will make the transition to the busy school days much easier for everyone.
Enjoy the rest of your summer, and remember to have fun getting ready for school!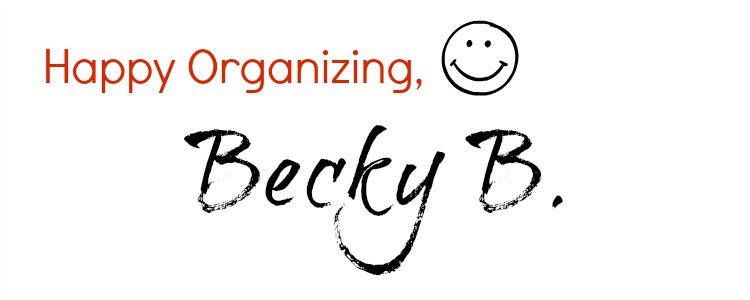 **I have a few affiliate links in this post - this does not mean you pay a dime more for the product when you purchase through my link. It just means I made it easier for you to find what you might like, so I make a few cents if you purchase. I SO SO SO appreciate when you support Organizing Made Fun. Thank you!!** Like what you see here? Consider becoming a follower or subscribe via email!
Are you an Organized Reader? I'd love to see your organized space. Email me HERE and show me your space to possibly be featured as one of my Organized Readers.