I really love this article about helping kids organize!
Some of the main points include:
RESIST THE URGE TO ORGANIZE YOUR CHILD'S ROOM WITHOUT YOUR CHILD'S INPUT!!!!!
This is without a doubt one of the most important things parents need to understand!
RULE #1: Everything needs a place to call home
Oh, you must have a home for stuff...your kids can't organize stuff without knowing where it needs to get put away!
RULE #2: If something comes in, then something goes out
How many times do I have to say this?
RULE #3: Leave things ready for the next time you need them
I really like this one, too!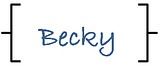 Like what you see here? Consider becoming a follower or subscribe via email!
Join me on
Facebook
- where we interact and have lots of great fun. You can also see behind the scenes pictures and fun stuff I do on my
Instagram
!
There are some products that are linked to my Amazon affiliate link.