So, ever since we got our vintage oven, I've had the hardest time figuring out where to put my towels in the kitchen.
You see, we no longer have that
bar there anymore that our old oven had.
So, I bought this great magnetic curtain
rod to put on the side of the vintage oven...
Then, my super-smart, six-year old daughter
said "Mom, why don't you put it
on the dishwasher since it's right next to the sink and it's magnetic too."
I tell you, sometimes it takes your kids to point out the obvious! Anywho...it's there, super convenient, not in the way, and a brilliant idea! What do YOU think?
Look...there it is, ready to dry off my hands! Yes, it drags a bit when you open the dishwasher, but it's not enough to bother me...it's too practical for me not to love it! Sometimes it's the little things that make life easier!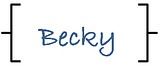 Like what you see here? Consider becoming a follower or subscribe via email!
Join me on
Facebook
- where we interact and have lots of great fun. You can also see behind the scenes pictures and fun stuff I do on my
Instagram
!
There are some products that are linked to my Amazon affiliate link.