So, I am constantly asked about what chores my kids do and how old they were when they started doing them. Teaching your kids to do chores teaches them to be responsible, it teaches them that they are an important part of running the household, and it teaches them that we all need to help each other out. Mom can't possibly do it all!
Above is a link to another great list that will help you determine if your kids are old enough to do certain chores! Enjoy!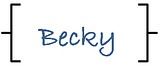 Like what you see here? Consider becoming a follower or subscribe via email!
Join me on
Facebook
- where we interact and have lots of great fun. You can also see behind the scenes pictures and fun stuff I do on my
Instagram
!
There are some products that are linked to my Amazon affiliate link.