So, I'm assuming that everyone has a computer....and that must mean that you have lots of email, blogging, and files to keep up with! Then there are pictures, scanning, and files upon files from how many years ago?
So, be honest.....is your email "inbox" a mess? Are there emails that you forget to reply to because they are stacked so long ago? Do you lose files on your computer? Forever trying to keep up with what is going on? Do you have too much paperwork and desperately want to get more paperless? Can you find your pictures on your computer?
First, we worked on your desk area, getting it cleaned up and finding places to put things and to have a place to set up your office. Second, we worked on getting your filing set up for your home. It's very important to have all that in place so you can get to important papers and documents. Now, we're going to work on your computer!
Your computer probably has more important files and pictures and documents on it than even your filing cabinet does! You need to make a plan (or ask your husband to do this) to back-up your computer on a very regular basis. This would be more than once a year!! Probably once a month or more would be best. If you have no idea how to do that....ask your techy friends. You know, those manly men that can fix any computer problem.
Another important thing is for you to set up a lock-down for your computer. This is important for two reasons. Passwords allow you to only access your computer so that your kids don't wind up getting (accidentally) onto website that are not OK. One program we use is Safe Eyes, which is pretty good. It has lots of great ways to keep track of time online, keep the kids out of certain websites that don't meet your critera, etc.
As far as keeping track of files on your computer, be sure you categorize just about everything that will have more than one thing. For instance, in your "inbox" make up "folders" so that you categorize. My folders include: Coupons, Bible Study, Dog, Important things from John (my hubby), Ideas, Piano Lessons, Personal, Vacation, Website Names (I can NOT remember all those passwords), etc. This way, when an email comes in, I either delete it, respond to it, or can "file" it in my folders. There are a few that will sit, but most of them can be dealt with right away.
You can do something similar with your documents and spreadsheets and for your pictures. Decide, with your pictures, if you are going to keep them filed by year and month, or by category (certain trips or events). You're going to have to take time once a day to sit down and manage these areas, but quickly.
I hope this is motivating you to just keep your computer files organized! Have fun!!
Part 1 of Organizing your office
Part 2 of Organizing your office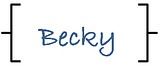 Like what you see here? Consider becoming a follower or subscribe via email!
Join me on
Facebook
- where we interact and have lots of great fun. You can also see behind the scenes pictures and fun stuff I do on my
Instagram
!
There are some products that are linked to my Amazon affiliate link.