We are one of a handful of southern Californian's that actually have a basement, not a cellar, but a real basement. Now, it's probably not a basement like the rest of the country has, but we have one nonetheless! I love having it as it has afforded us a lot of extra space to store things -things that we mostly use for all the many events and guests that we have here at our house. It also has my laundry "room" and my husband's work shop down there. It's only about 300 square feet, but it's wonderful! However, I have to look out my laundry room window and see this awful view every time I do the laundry.
First you can see the lovely view in pictures 1 & 2 of the window view I have...not so lovely! Dead plant and spider webs (#3) and a screen chewed up by the rats! So, I took my husband's new power tool that he got for Father's Day (I might as well break it in). I used it to scrape the paint that was left on the cinder block (#4). Then, I taped up the window (#5) and sprayed primer paint on the wall (laying on my stomach - #6).
I then painted the first coat of bright robin's egg blue (#7) paint. I used most of the can of paint, maybe 3 coats to make sure I got it all. Looking down on the window well, it's beautiful...planted a new plant. My sister in law was horrified that the pretty plaque she got me (the one with the butterfly) was in that yucky mess before. I told her I had a project in mind and it would shine again soon! I added a layer of plastic (actually used two trash bags and poked holes in them) and two bags of inexpensive pebbles. Planted a New Guinea flower in the chocolate colored clay pot and it's absolutely the nicest view to have while doing my laundry again. Oh, and I cleaned the windows and took away the sad screen.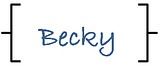 Like what you see here? Consider becoming a follower or subscribe via email!
Join me on
Facebook
- where we interact and have lots of great fun. You can also see behind the scenes pictures and fun stuff I do on my
Instagram
!
There are some products that are linked to my Amazon affiliate link.