Yep, Mom always told us to make our beds. We're just going to sleep there again tonight, so why should I bother? It takes so much work and effort to make it, too! Well, she was right - MAKE YOUR BED. Make it everyday!
The small effort it takes makes your entire room look so much cleaner and better - even if the rest of the room needs more work. Have you ever timed how long it would take? My mom did...and I have too! It took her two minutes to make her bed. Two minutes! Seriously? I have a lot of pillows and hoopla on my bed and it only takes two minutes. I have a very visible bed in my master bedroom - anyone who comes over to my house can see it. So, make your bed. And, teach your kids to make theirs too! Don't be lazy....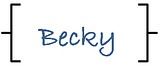 Like what you see here? Consider becoming a follower or subscribe via email!
Join me on
Facebook
- where we interact and have lots of great fun. You can also see behind the scenes pictures and fun stuff I do on my
Instagram
!
There are some products that are linked to my Amazon affiliate link.