So, I'm looking around my house while I was cleaning and thought - "hey, I've got a lot of stuff on hooks!" So, I guess, without even realizing it, I've really come to rely on hooks! Let me show you:
Here I have hooks in my back entry we use sort of like a mud room, but in the summer the kids hang their swim bags and towels. In the winter we use it for coats (not pictured underneath is a matching bench with basket for storage).
Hooks on the back of the utility closet
(I don't have a coat closet in this house at all).
Hooks in my daughter's room
Hooks in my closet for belts
Hooks in my hubby's closet for belts
Hooks for my extra frig scissors...
Even hooks just for whatever appears!
Apparently, I'm really hooked on hooks and didn't even realize it! It's true, I really like them because it gets clutter off the floors! But, it's really easy to let the hooks get cluttered too, so you have to be careful to put some limits and restriction on those or you'll wind up with more clutter on there, too!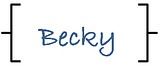 Like what you see here? Consider becoming a follower or subscribe via email!
Join me on
Facebook
- where we interact and have lots of great fun. You can also see behind the scenes pictures and fun stuff I do on my
Instagram
!
There are some products that are linked to my Amazon affiliate link.