When it comes to organizing, I'm a big fan of getting the most bang for your buck! Cardboard is one of those things we all seem to have around, for FREE, that we can use to organize! So, I've got 11 ways to organize using cardboard.
1. Grab that cardboard and wrap your Christmas lights around it to keep them neat and organized!
2. Organize ribbon, similarly, by using small pieces and wrapping the ribbon on them.
3. Grab a box and wrap some pretty paper on it and organized under the sink or anywhere around the house.
4. Organize kids toys with cardboard file boxes - this cute felt fruit stand is especially cute!
5. Use cardboard paper towels rolls to make a jewelry organizer! Tadah!
6. Use that cardboard drink caddy from the local fast food place and turn it into a picnic caddy to organize all your paper goods!
7. Use cardboard toilet paper rolls to organize school supplies! Such a great and easy idea!
8. Use a cardboard box to organize and hide unsightly things - like a large router or a large strip outlet.
9. If you craft, you likely have craft or scrapbook paper. Use cardboard boxes to sort and organize it all.
10. Use a cardboard diaper box and turn it into a pretty basket by covering in pretty fabric.
11. Use that ziptop cardboard box and cover with contact paper and turn it into a great organizer in the pantry.
I love all these ideas! If you need any instructions on how they did this, click on the picture and it will take you right to the tutorial! What's your favorite use for cardboard when you organize?
For more fun ideas try these: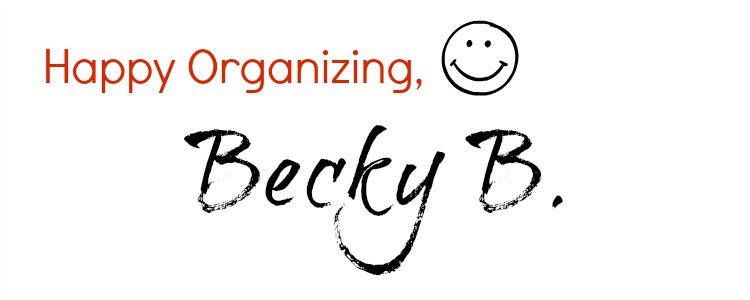 Want to know where I got that product?
**I have a few affiliate links in this post - this does not mean you pay a dime more for the product when you purchase through my link. It just means I made it easier for you to find what you might like, so I make a few cents if you purchase. I SO SO SO appreciate when you support Organizing Made Fun. Thank you!!** Like what you see here? Consider becoming a follower or subscribe via email!