It was 2002 when our lives changed suddenly! We had an amazing little boy, who was suddenly diagnosed with autism. I had never heard of autism, nor had I ever known anyone who had a child with autism. It plunged us into such an known world of therapies, sensory issues, and so much more. But, the good news is what I wanted to share with you today. It's been several years since I posted an update on our son, Adam. He is now 16 - oh my goodness - and I'd like to share with you and encourage any of you who know someone with autism. So, feel free to pin, share, and comment about who you know who has autism.
You see, Adam isn't a typical 16 year old. And for that, I'm so grateful! He isn't the teenage boy trying to get in trouble or trying to break every rule. In fact, he's just the opposite. He was SO MUCH WORK when he was toddler through about age 10, then something started to click and he got easier and easier. He still does dumb stuff and doesn't always use his head - which is typical of most teens - but, he is the most joyful kid you could know.
This past year, he got his driver's license. Oh yes, he's driving now. And he's driving all over our city from place to place. His independence has skyrocketed. Some doubted that he should be getting behind the wheel of a car and driving - as he tends to panic and over react to things. But, our thoughts were that we would never know unless we just pushed him and made him try. He was hesitant, at first, about driving. It took him three tries to pass the test - but he passed and he's such a great driver! He's careful and obeys the laws to a "T".
I hear from many of his teachers that he is one of their favorite students. Why? Because he does the work, participates in class, and never complains. This teacher, above, had Adam in first grade and fourth grade and again as his seventh grade history teacher! It was so fun and he was Adam's favorite teacher. He loves Adam and secretly said he's never had another student he enjoyed more than Adam.
He plays on the high school golf team. He's also in the high school marching band. He thrives in each. He works hard and he's nearly making straight A's.
This summer he tried getting a job. He applied EVERYWHERE. The city program turned him down and all the minimum wage jobs turned him down or he never even got a chance to have an interview. Well, I told him he HAD to work because a teenage boy can't sit around all summer and do nothing! There are job programs for kids with special needs, but they need to be 18 or older so he also wouldn't qualify. So, we started advertising him in the neighborhood website, our church freecycle, and my personal Facebook page. He started getting job after job after job. People left comments stating how hard working he was. We put his hourly rate up front and stated all that he was good. He's very strong and has a lot of energy, he's tireless, and he never complains. People noticed that. He has been able to continue to work through the summer and into the fall and make his own hours, and has probably made more money doing his own work than if he'd be tied down to a job somewhere else.
Why do I share all this with you? I share it for your encouragement, for your hope. Having a child with disabilities is not meant to be a doom for their life. We are ever so thankful that our son has thrived. It is ONLY by the grace of God that he has done so well. As parents, we have always pushed him just outside of his comfort zone. We have always expected his best. We NEVER use his autism as an excuse to misbehave or to do poorly or to be mean to others. It's been uncomfortable for him, at times, when we make him do things he doesn't like.
He took a social skills class a couple of years ago that was SUPER helpful. It was called PEERS and was directed out of UCLA locally near us. It helped tremendously. I encourage you to look into a class for your teenaged son/daughter if they have auspberger's or any type of spectrum disorder. High School has been GREAT for him - better and better every year. That class he took really got him ready for this time in his life. He struggles still, here and there. But, we encourage him and we see him really thriving.
Do you know someone with autism? How can you encourage them? Share this with them. I have more on autism HERE - click and find out more ways to help both you and your child.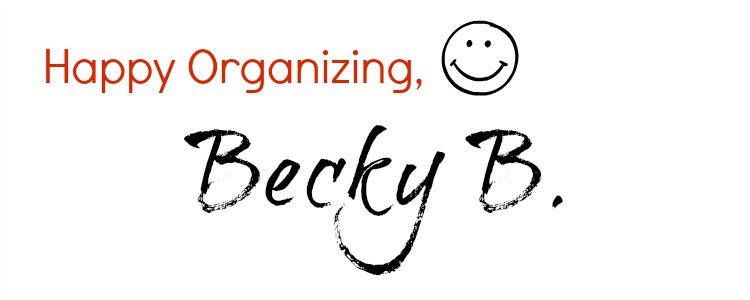 Want to know where I got that product?
**I have a few affiliate links in this post - this does not mean you pay a dime more for the product when you purchase through my link. It just means I made it easier for you to find what you might like, so I make a few cents if you purchase. I SO SO SO appreciate when you support Organizing Made Fun. Thank you!!** Like what you see here? Consider becoming a follower or subscribe via email!