You love to decorate for the holidays but because your decorations are disorganized, it's not as much fun as it used to be.

Your collection of decorations has grown with time and may have become unmanageable and disorganized.
Let's put the fun back into decorating, with some tips for keeping it all organized, contained and easy to find.
As you decorate your home this season, spend some time editing what you own.

If you didn't use it last year and you are on the fence about it this year,

consider passing it along as a donation

.

There are plenty of families in need of holiday cheer.
Sort and categorize all your decorations.

Here are a few category ideas to get you started:

outdoor lighting, tree lights, tree ornaments, mantle decorations, linens, candles, and so on.

Once they are categorized, you will be more aware of what you own, if you have too much and recognize which decorations are no longer your taste or style.
Contain the categories and label the boxes. Avoid wasting time searching for your decorations by giving each holiday an assigned area or shelf.
Protect fragile ornaments and decorations by wrapping them in tissue paper before storing in bins.

No need for fancy ornament boxes with dividers. In fact the dividers take up space leaving less room for ornaments.
Wrap strings of lights around your arm to form a loop.

Secure each loop of lights with a couple twist ties to keep them neat and untangled.
Hang wreaths and other wall decorations from nails/hooks placed in basement or storage area walls. This is a great solution for large items that do not fit into containers and the wreaths won't lose their shape.
Cover wreaths and large decorations with clear plastic bags.

They will still be visible and dust-free.

If you have black bags on-hand, label the bags with duct tape and a marker.
Would you prefer to organize after each holiday?

Go ahead and do what suits you.

Regardless of when you organize your decorations, you will be thrilled you did so when the holiday comes around again.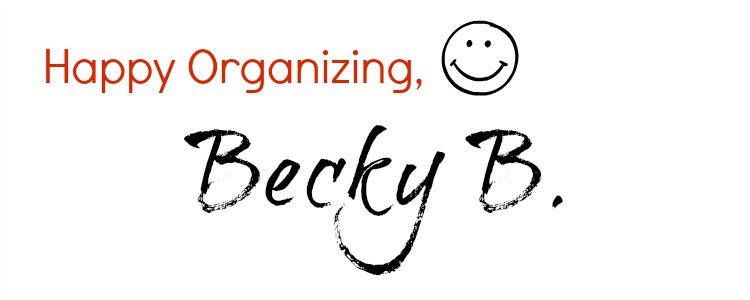 Want to know where I got that product?
**I have a few affiliate links in this post - this does not mean you pay a dime more for the product when you purchase through my link. It just means I made it easier for you to find what you might like, so I make a few cents if you purchase. I SO SO SO appreciate when you support Organizing Made Fun. Thank you!!** Like what you see here? Consider becoming a follower or subscribe via email!