You've cleared the clutter off your kitchen counters and before you know it the surfaces are covered once again.

The kitchen is a busy area of our home and easily cluttered….even if you don't cook. Their flat spaces are inviting places to dump our stuff as we enter our home or pass thru the kitchen.
Here are some tricks to keeping those areas clutter free.
Routines are instrumental to living an organized life. Develop a routine where you and your family members clear the counters on a daily basis.

Sort mail and find a home for the papers you need to keep. Click here for tips on setting up a paper command center.

Wash and put away dishes after the last meal of the day.

Are you storing food on your counters?

Weed out a few cabinets or pantry shelves so you can move food off the counters and onto shelving.

Contain the clutter.

Give each family member a labeled basket or bin to hold their miscellaneous items instead of letting their stuff spread over the counters. If the clutter tends to be the paper variety, labeled wall pockets may be a better solution.

These containers should be emptied and sorted out once a week to make it a less daunting task.
Next time you're tempted to ditch your belongings on the kitchen counter, stop and take a minute to put the stuff away.

This

will save you grief and time in the future.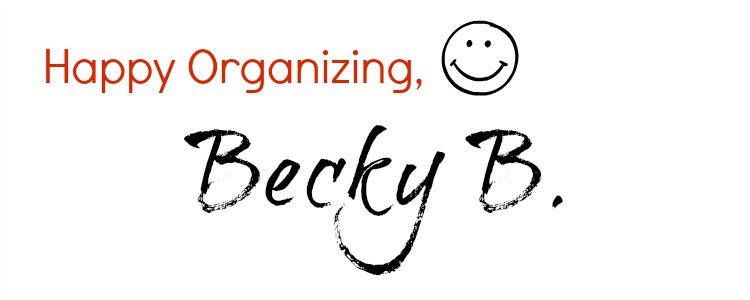 Want to know where I got that product?
**I have a few affiliate links in this post - this does not mean you pay a dime more for the product when you purchase through my link. It just means I made it easier for you to find what you might like, so I make a few cents if you purchase. I SO SO SO appreciate when you support Organizing Made Fun. Thank you!!** Like what you see here? Consider becoming a follower or subscribe via email!