Hi fellow Organizing Made Fun readers! I'm Rachel from Useful Beautiful Home and am here to show how I organize using vertical space. I wanted to share something today that was relevant to summer organization and my thoughts immediately went to the laundry. Whether washing up outdoor play clothes or returning home from vacation with suitcases full of dirty clothes, my laundry room is a busy place this time of year!
T
here isn't much floor space in my laundry room, which makes all those partitioned laundry sorters and handy carts not very practical for me. I needed to brainstorm a method of separating the clothing chaos and getting the piles off the floor! Long ago, I remember watching
The Christopher Lowell Show
. One catchphrase he often stated was, "if you can't build
out
, build
up
" and that was my magical answer! I started with a blank wall in the laundry room. The space could accommodate hanging laundry bags of some kind, but which ones? I did some comparisons and found these washable
hanging laundry bins
on Amazon (pictured below)
as the best choice.
Did I mention they are washable?!! They also hang flat against the wall due to the wide-mouth, rectangle-shaped opening. The design is perfectly brilliant!
AND, they unzip in the back to easily empty dirty items into the washer. One full bag conveniently equals a standard wash load.
Rather than just hang some hooks on the wall and be done (too boring) we cut a 10' long piece of 1x4 lumber in half, giving us two equal sized planks. Next, we sanded the two 5' pieces, painted them with leftover Woodlawn Blue paint, and anchored them to the wall. And by "we", I mean my husband.
Next, we my husband installed some inexpensive hooks (like THESE hooks) equidistant apart on the painted wood pieces.
Finally, my turn! I did what I do best - label. I used adhesive metal bookplates (found bookplates here) and they worked beautifully. It's a little bit of bling in a tasked oriented room.
The white papers that slide inside the brackets are interchangeable if necessary, making the whole arrangement adjustable if I want to change a category label or a category placement.
In total, I have three on the top tier and three across the bottom tier.
Now I'm prepped and ready next time we come home from vacation with a few of these bad boys...
Just so you don't think my laundry does itself, here they are in action upon returning home from a week of vacay last year. Don't worry, no undies are showing. ;)
Below is a shot from another angle where you can also see my DIY laundry skirt using simple grommets and no-sew tape.
I'll share one final picture, just because I appreciate how they keep me organized in the laundry zone.
I haven't been able to find them anywhere other than online. However, they are very durable and are still in the same good shape today, over a year later from when these pictures were taken. Lastly, I want to mention two pleasant surprises I've experienced with this system over the past year. One, my wall system has made our laundry routine much easier and simpler by having everything pre-sorted and readily available for washing. Two, it's a relatively child-friendly design that helps in the process of teaching laundry skills to my kindergartener!
I love Becky's
Five Practical Ways to Deal with Laundry and Kids
, to which I include pre-sorting as an age-approrpiate task for my daughter. It's a fun "game" to toss clothes into hanging hampers when you're six-years-old. :) Easy for her, easy for me, and no laundry on the floor makes this an organized winner in my book. I hope you've found some inspiration today and thanks for having me!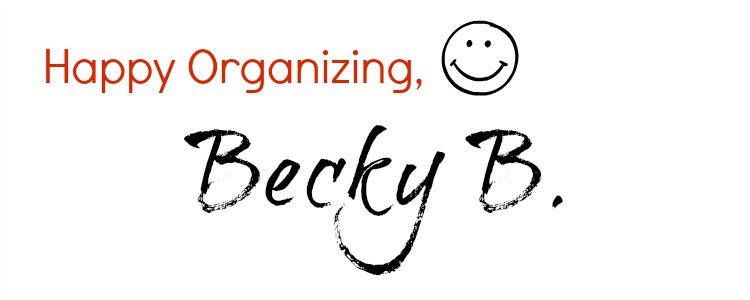 **I have a few affiliate links in this post - this does not mean you pay a dime more for the product when you purchase through my link. It just means I made it easier for you to find what you might like, so I make a few cents if you purchase. I SO SO SO appreciate when you support Organizing Made Fun. Thank you!!** Like what you see here? Consider becoming a follower or subscribe via email!