Do you have boxes of photos that need organizing? Who doesn't? Photo organization is on most of our to-do lists. We figure we will get to it "someday." When your kids start school, move out or when you retire.
"Someday" rarely happens because it feels overwhelming to think about organizing all those old photos. Where do you even begin?
You will want to start by breaking this huge task into mini-tasks I have outlined below.
1. Set up a temporary work space in your home that won't be disturbed for as long as it takes to finish organizing your photos. You will need a table, a trash bin and small labeled containers to hold photos once they are sorted.
2. Gather all your photos and move them to your work space.
3. Schedule 30-minute work sessions on your calendar. Decide how often you will devote to working on your photos: once a day, once a week, etc. If you need someone to hold you accountable, tell a friend about your goal or hire help.
4. Set a timer for 30 minutes and start by sorting one envelope or a small stack of photos. Sort them chronologically or by event and place them into containers labeled with the year or event title.
5. Be ruthless, toss photos that are unfocused, dark, unpleasant memories, unflattering or make you say "who are those people?"
6. Once photos are sorted, decide on the system you want to use for permanent storage: albums, photo boxes, scrapbooks, or scanned into your computer. Move your sorted photos, little by little, into the system of your choice.
This project will take some time but you will be rewarded with the satisfaction of preserving your family memories.
Thanks to Jill, my contributor, for all her helpful tips on organizing our photographs!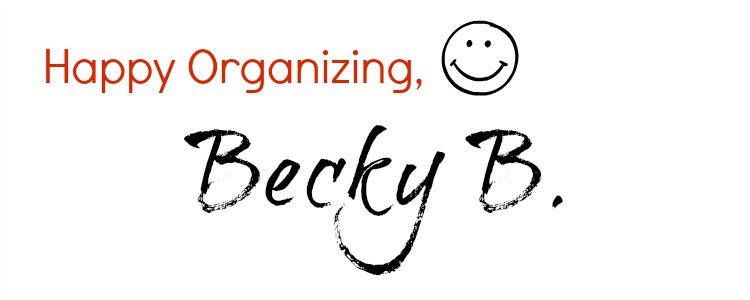 **I have a few affiliate links in this post - this does not mean you pay a dime more for the product when you purchase through my link. It just means I made it easier for you to find what you might like, so I make a few cents if you purchase. I SO SO SO appreciate when you support Organizing Made Fun. Thank you!!** Like what you see here? Consider becoming a follower or subscribe via email!
Are you an Organized Reader? I'd love to see your organized space. Email me HERE and show me your space to possibly be featured as one of my Organized Readers.