Once again we are wrapping up another month - July! I'm actually in Atlanta today hanging with a friend and getting ready to attend Haven, a DIY bloggers' conference so feel free to tag along with me to see what we're up to there on Instagram.
If you missed anything this month, just click on the post and you can go there and catch up! It's been a great summer!
I'd also like to highlight some special places. These are the BEST sponsors! They have such great products and services that are definitely worth your while to check out!
Clean Mama printables has this new set of printables that I am absolutely crazy about! They are to organize for your special needs child - whether they have and IEP, many doctor's visits, speech therapies, physical therapies, medication tracker, goals, etc. - these are awesome!! The kit is called "The Exceptional Child Kit" and you can click on the picture above to go and see it. You can always use your special discount code for 20% off for OMF readers:
20ORGMF

Online Labels has the best labels - I've used them several times, myself for all kinds of things. You can use them for the free printables you find on the web or use to write by hand, as I have done. Go HERE to get the FREE printable above in the picture and see more ideas for the labels.
As school gets closer, you'll want to be prepared by having your kids clothing, lunch bags, shoes, and backpacks labeled properly so they don't lose anything! Label-Land.com has your labels for all of that! Here are some great deals from Label-Land.com!
10% off 60 Stick-N-Wear
™
labels (or more)
use code STICK10
20% off 120 Stick-N-Wear
™
labels (or more)
use code STICK20
Alejandra had a fabulous giveaway earlier this month, but she's also got new videos she's doing every month. So, go here to sign up to learn more.
You won't be disappointed in her - she will help get you motivated!
And, last, Brandi from Clever Container has a ton of great ideas for organizing your things at affordable prices! When you spend $50 on products in August, you get the stow and go bag free! Please click on the picture or go to her site for more information.
Again, a BIG thanks to these sponsors for their help in keeping Organizing Made Fun up and running each month. If you are looking for a place for your business to have more exposure and your business is home decor, organizing, or green living, this is the place for you. I have a few openings that just became available to become a sponsor! Go HERE to find out more.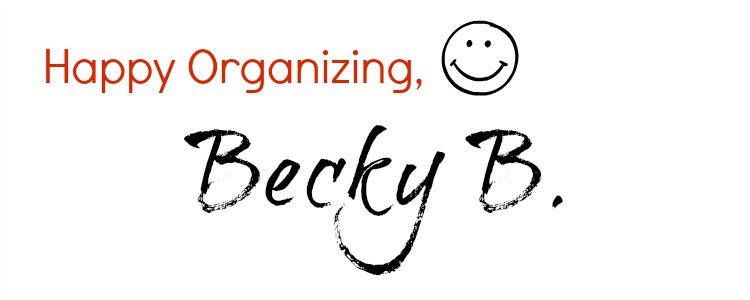 Like what you see here? Consider becoming a follower or subscribe via email! Are you an Organized Reader? I'd love to see your organized space. Email me HERE and show me your space to possibly be featured as one of my Organized Readers.