Have a very Happy New Year!
Tomorrow we are going to start the new year off right! I have a series every Monday called "Organized Resolutions"! AND a fantastically, organized giveaway!! Don't miss it...and be sure to tell your friends!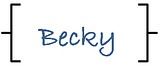 Like what you see here? Consider becoming a follower or subscribe via email!