I should organize things for my babysitter? Well, not exactly. But, yes you should! I remember babysitting years and years ago...and having great experiences and not-so-great experiences! Here's a few tips that I've learned being a parent and being a babysitter:
1. If it's a new sitter, give them a schedule of the evening. Either written on a piece of paper or chalkboard. Then, go over the schedule with them and explain how things work in your house.
2. Be flexible about the schedule! Stuff happens, so if they put the kids to bed ten minutes late, it's not a big deal.
3. Feed your sitter...have dinner ready for the sitter and the kids. We always get the sitter and kids McDonald's and ask the sitter what they want.
4. ALWAYS pay them in cash! Checks are just not the same, especially when most of them don't have checking accounts.
5. Give them options of things to do that your kids like to do.
6. Always leave your cell number and let them know they can text you too (if your cell has that option).
7. Be up front about how much you pay. If you pay skimpy, don't expect the sitter to be available when you need them!
Trust me, if you have a great babysitter that you like and you pay them well, with cash, and provide dinner - they will MAKE themselves available to watch your kids whenever you need them to! We have had really good babysitters and my kids look forward to having Mom and Dad go on a date night!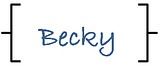 Like what you see here? Consider becoming a follower or subscribe via email!
Join me on
Facebook
- where we interact and have lots of great fun. You can also see behind the scenes pictures and fun stuff I do on my
Instagram
!
There are some products that are linked to my Amazon affiliate link.